Description [src]
final class Gtk.FontButton : Gtk.Widget
  implements Gtk.Accessible, Gtk.Buildable, Gtk.ConstraintTarget, Gtk.FontChooser {
  /* No available fields */
}
The GtkFontButton allows to open a font chooser dialog to change the font.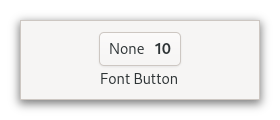 It is suitable widget for selecting a font in a preference dialog.
CSS nodes
fontbutton
╰── button.font
    ╰── [content]

GtkFontButton has a single CSS node with name fontbutton which contains a button node with the .font style class.