Description [src]
final class Gtk.Switch : Gtk.Widget
  implements Gtk.Accessible, Gtk.Actionable, Gtk.Buildable, Gtk.ConstraintTarget {
  /* No available fields */
}
GtkSwitch is a "light switch" that has two states: on or off.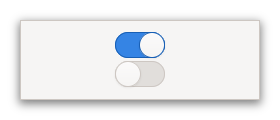 The user can control which state should be active by clicking the empty area, or by dragging the handle.
GtkSwitch can also handle situations where the underlying state changes with a delay. See GtkSwitch::state-set for details.
CSS nodes
switch
├── label
├── label
╰── slider

GtkSwitch has four css nodes, the main node with the name switch and subnodes for the slider and the on and off labels. Neither of them is using any style classes.
Accessibility
GtkSwitch uses the GTK_ACCESSIBLE_ROLE_SWITCH role.